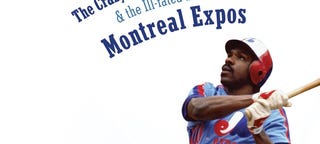 What if I told you that there was a fun-loving, oft-forgotten baseball squad that wouldn't earn five minutes in a Ken Burns documentary because they always leaned more "Pee-wee's Playhouse" than PBS? A team that featured announcers calling knuckleballs balles papillon (the latter being the word for butterfly in French), the firstmascot to ever get ejected from a game, and a defective stadium thought by many to resemble a giant spaceship with an outfield known to freeze over in April. A team known as the Montreal Expos.
What if I told you that amid the fun and games, the team was no joke, winning more games than any National League team from 1979-83, and boasting the best record in baseball (74-40) when a strike ended the season in 1994? The Expos produced a multitude of stars over its thirty-five-year lifetime, like the beloved redhead Rusty "Le Grand Orange" Staub, superhuman base-stealer Tim "Rock" Raines, perma-smiling Gary "The Kid" Carter, stoic Andre "Hawk" Dawson, and young fireballer Pedro Martinez. And contrary to what you may have heard, the Expos once had fans, many fans, including diehards like Montreal native Jonah Keri who, along with his self-named high school pals "The Maple Ridge Boys," were loyal to the team until they were packed up and shipped off to Washington, D.C., in 2004. A decade on, Keri has written the definitive history of the club in Up, Up, and Away (named for Expos broadcaster Dave Van Horne's signature home run call), a book filled with the thrills of victory and the agonies of defeat as it takes readers for a fun trip around the bases.
And what if I told you that Keri spoke with me about digging into his boyhood love, writing for Grantland, Montreal's role in integrating baseball, the reason for keeping cocaine in your back pocket, and moving on when the game lets you down?
Patrick Sauer: You recently attended the exhibition games in Montreal. What was that experience like?
JONAH KERI: It was incredible. Any book tour is fun, but this was more personal because the book itself is very personal. I did a signing alongside Ellis Valentine, who was a very good player in the seventies and early eighties, and Jim Fanning, who was one of the original architects of the Expos and a former manager. These two are flanking me at a table, while five feet away in the audience are my mom and a bunch of guys I grew up with. I don't think a lot of authors get to say, "Hey, here's this guy I rooted for at age five. Now he's fifty and sitting next to me." It was surreal. The next night there was a reunion of the 1994 Expos, and I gave a speech as a voice of authority. Again, it's like, "There's Larry Walker, Moises Alou, and Marquis Grissom." I was nineteen that season, so the players weren't even that much older than me, but I rooted for them, so it was definitely a Chris Farley Show "That Was Awesome!" kind of moment.
PS: You have snippets of yourself in Up, Up, and Away, especially in scenes with the "Maple Ridge Boys." How did you decide when and where to include yourself into the story of the Montreal Expos?
JK: I was definitely working without a net because I don't usually write that way. I've never written in that style for Grantland, which is a site that's set up for it if you want to. I don't really do the I was in a bar watching the Cubs, and here was my experience thing. I'm an old-school J-school kind of guy. It was my editor who wanted me to insert that stuff into the new book. If it were up to me, I probably wouldn't have included any of it, but it's not overwhelming. Basically, I put it in chronologically. I was born in 1974 and wasn't a sentient baseball fan until the early eighties, so it's sparse until the late eighties. Even then, I included myself sparingly, only if there was an obvious fit. A good example is the "Maple Ridge Boys," which we named after Larry Walker's hometown. It's relevant, but I didn't make it the focal point because I wouldn't want to take away from analyzing Walker's immense skill, or what he meant to the team and the town. I don't have much of an ego for a writer, I guess.
Related: Baseball Heroes and the Burden of Dreams: Q&A with Allen Barra
PS: Did you go back and talk to your old friends, people you grew up with and went to Expos games with?
JK: I remember quite a bit, but I absolutely went back and talked to people. Montreal is interesting. With a lot of my American friends it seems like they turn eighteen and say, "I'm getting the hell away from my parents." People growing up in Oregon go off to college in Maine. Even if they have no problem with their family, it's all part of spreading your wings. Montreal has more of a European vibe. It's common to stay in the house you grew up in, or maybe an apartment down the street. The end result is that you tend to keep the same friends from high school, or even elementary school. I have pals from when I was five and twelve, and we went to Expos games together at Olympic Stadium. Later on, we started going on road trips, and a few years ago we were in the Bay Area for an A's game. Three of the Maple Ridge Boys were in the car, so I took out my recorder. We started shooting the shit, telling old stories, and they filled in a lot of the gaps. It helped the book, but even more than that, it was fun being in our late thirties and laughing about stuff that happened when were fifteen or sixteen years old.
PS: You and a few other writers at Grantland, say Zach Lowe on the NBA, have a unique slot in that you get paid to write about the leagues you cover on the whole, without being bound by short word counts or the grind of beat writing. Is this the ideal situation?
JK: I am not a religious person, but it's a blessing from some kind of higher power. It's awesome. I graduated in 1997 and wanted to do exactly what I'm doing, but at that time, you couldn't. It didn't exist. To be a newspaper columnist, which would have a lot of the same luxuries and freedoms I have at Grantland, required fifteen to twenty years of paying dues, covering high school field hockey while waiting for a ninety-five-year-old guy to retire. After a decade, maybe you're a beat writer, then at age fifty, you finally get a column. Ugh. Awful. I was impatient. I didn't want all that drudgery. When I realized that was what would happen, I switched and became a business writer. I wrote for Investor's Business Daily, which had a cool, analytical way of looking at the stock market, even if I didn't always agree with what they had to say politically.
PS: How were you able to parlay that into writing about baseball?
JK: I got to hone my skills over there, but I never gave up on wanting to write about sports. In the late 1990s, I started reading a couple of savvy Internet writers. One was Rob Neyer, a baseball guy then at ESPN, and the other was Bill Simmons, who's now my boss. I liked what they were doing, so as the industry started maturing, I started writing for very little money forBaseball Prospectus. I loved it, but it wasn't until 2011, after my first book, The 2%, came out, that I had a full-time sportswriting gig. I didn't achieve my dream until Grantland called. It's great and it's a complete meritocracy. I'm thirty-nine, ancient by Grantland's standards, but the reason they employ so many writers in their twenties is because they do great work. It didn't matter that they hadn't put in ten years at the New Yorker, Sports Illustrated, or the Wall Street Journal. You can be a freelancer or a blogger, and if you're good, you're good and we'll find you. Katie Baker worked at Goldman Sachs, wrote a couple of freelance pieces for Deadspin, which the editors liked, so we hired her. It's a very supportive atmosphere, and Grantland is growing as the reputations of the writers they're developing grow.
I was hired by Dan Fierman, a former GQ editor. He told me Grantland has one rule: "No assholes." I said, "That's great, because I'm not an asshole!" Three years in, and I still feel like it's the best job in America.
Related: Rich Cohen's Monsters: One War-Like Year with the Chicago Bears
PS: I've been a business writer for many years as well. Getting an entrepreneur on the phone requires much less effort than the hoops you have to jump through with professional athletes. Does being able to avoid the PR hassles, as you seem to do in your way of writing for Grantland, keep sports interesting?
JK: Yes and no. I get to sit on my high horse and use stats and analysis as the driving force in my pieces, but I do go to the ballpark and do a lot of reporting. I live in Denver, ten minutes from Coors Field, so I can go pick the brains of players, managers, and general managers. It helps that I have a non-intense need to speak with people. If I'm the Yankees beat writer trying to get an interview with Derek Jeter on deadline, it's a big problem. I can wander into the Rockies clubhouse, or call the opposing team's PR person, lay out what I want to do, and show up three hours before game time to talk. I also want to nerd it up with these guys, to talk to, say, Chipper Jones about the nuts-and-bolts, the mechanics of hitting. Pitch sequencing, catcher framing — atypical questions. I don't have to do it, but these conversations lead to deeper and richer experiences for the reader.
PS: In writing Up, Up, and Away, what had you learned from writing The 2%, and what did you do differently?
JK: Organization was the big thing. I think The 2% wasn't bad for a first solo book. The big themes are there, and I reported the hell out of that thing. I did, like, 175 interviews, which was bananas. It could have been less, but I think the more-is-better approach works. So when I started writing The 2%, I had all this stuff. I was swamped by the material. The day-to-day of going through notes and trying to figure out where to put one specific nugget was overwhelming. This is a writerly thing, but I was using basic Microsoft Word and it was useless. For the Expos book, I used Scrivener, which is great; it lets you organize things any way you want. Here are the chapters, topics, subtopics, interviews by managers or players ... If you're scatterbrained, like me, it allows you to basically post notes to a corkboard. Whatever your brain mechanism, Scrivener can handle it. I sound like I'm getting paid to endorse the product, but it did wonders for me. I should add, though, that my wife, a successful child psychologist, learned the software and then taught it to me. So my advice is to get Scrivener and marry well.
PS: You use sabermetrics in your writing. Where are general readers now in their comprehension level of advanced statistics?
JK: For Up, Up, and Away, I barely used sabermetrics at all, because it's a book of stories, not stats. Day-to-day, you want to flatter your reader, make them believe they're smart enough to come along for the conversation. You don't want to talk over their head, but you do want to challenge them a little bit. I don't consider myself a particularly innovative or amazing writer, but one of my skills is translating math into plain English. It's basically, "I found this cool thing — take my hand and let's walk over to see it." It's not just a stathead thing, either. It's a reporter's job to elucidate, whether that means explaining why a pitcher's win-loss record is flawed, or in the Expos book, why gourmet cook Rusty Staub used to bring his own cooking utensils on road trips.
This piece has been excerpted. Visit Biographile for the rest of the interview.
Patrick Sauer is a contributor to the new online magazine NSFW Corp. and has written for publications such as ESPN, Fast Company, Deadspin, The Classical, Huffington Post, and Whim Quarterly. His personal essays have appeared in "The Moment," "Lost & Found," and the "Six-Word Memoir" series. Originally from Billings, Montana, he now stays-at-home-dads in Brooklyn. For more, check out patrickjsauer.com or follow him @pjsauer.
Biographile is your literary source for news, reviews and interviews on the world of biography, memoir, and narrative nonfiction.