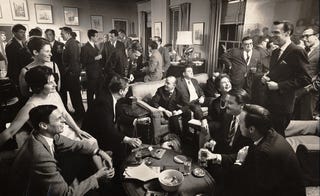 In 1999, I attended a panel discussion centered around The Best American Sports Writing of the Century. The lineup was basically the 1927 Yankees of New Journalism. Hosted by bon vivant extraordinaire Dick Schaap, the featured guests were Ira Berkow, Gay Talese, David Halberstam, and George Plimpton. Murderers' Row, right?
At one point, the discussion turned to sports fandom. Nearly everyone was dismissive. Talese, in particular, gave his high fedora to the low jersey-wearers, while Halberstam told a serious story (doubly so in that stentorian voice of his) about how he feared for the safety of Reggie Miller's wife at a Knicks-Pacers playoff game. It's easy to understand where they were coming from – obviously sports fans can be ugly, obnoxious cretins with a propensity for fisticuffs – but that isn't why I remember this particular discussion.
The last one to speak was George Plimpton. He began with a note about how his interactions with fans had always been great, and then proceeded to tell the stem-winding tale of how he introduced his pal, Sports Illustrated swimsuit cover model Carol Alt, to his hockey-loving comrades in the upper deck at Madison Square Garden. Plimpton loved the infamous "blue seats," the rowdy, boozy, vulgarity-laden rafters, where back in the 1980s a Bay Ridge garbageman could get a seat for ten dollars. Alt, then married to New York Ranger Ron Greschner, would often get serenaded from above, so one night, Plimpton escorted her to the blues. The dirty swine were mesmerized by the vixen in their midst, completely enamored with the idea of Alt, beauty queen and hockey wife, hiking up to their nosebleed seats. Some fifteen years on, Plimpton relished reliving the experience, laughing at the lovable chaos he'd wrought, giving fans – and himself – an unforgettable story.
"Dad knew that life, at its essence, should be about having a good time and not taking yourself to seriously," says Taylor Plimpton, author of the never-say-die NYC nightlife memoir Notes From the Night. "If you didn't know him well, you'd assume with that accent, he was a stern, authoritarian figure – and I felt that occasionally as his son – but the reality is he was a fun-loving, lighthearted guy."
The joie de vivre shines through in "Plimpton! Starring George Plimpton as Himself," a new documentary airing as part of PBS's American Masters series May 16 at nine o'clock PM (check local listings). Plimpton's career is impossible to encapsulate in simple terms. He called it "participatory journalism," but that's too rigid and formulaic. In the documentary, Plimpton is referred to as a "collector of experiences," which sounds better, but is almost too high-minded and whimsical. By founding the Paris Review, Plimpton's contribution to arts and letters is secure, but his writing (and television) life was, to its credit, much more accessible and down-to-earth than that of many of his peers. A descendent of the Mayflower, Plimpton came from blue-blooded money, but he seemed to have an innate understanding that the life he wanted to live required an audience of more than the literary heavyweights at his frequent and flowing Manhattan cocktail parties. In America, sports is the lingua franca of common folk, the sole unifying topic from sea to shining sea. Find a bar, have a beer, talk about the game. Thus, he became the stand-in for every guy who ever wondered what it would be like to trade blows with a champion like Archie "The Mongoose" Moore, be the average Joe who laces 'em up for the Boston Celtics, or the "universal amateur" who pitches to Willie Mays.
Related: Hunter S. Thompson Wrote the Hell out of the Hell's Angels

Sports wasn't the only arena in which Plimpton embedded himself: He also played triangle for the New York Philharmonic under the withering eye of Leonard Bernstein and bombed at stand-up comedy under the anti-tutelage of Woody Allen. Competition brought out his most humane writing, and Plimpton's masterpiece is Paper Lion, the vastly entertaining tale of his attempt to play quarterback for the Detroit Lions. As he walks off the field, to much applause, after a few botched plays in a scrimmage, Plimpton says the cheers are in part because "the outsider did not belong, and there was comfort in that being proved." He was one of us, not them. At its highest craft, sports are played by a select elite of the human race, but anyone can root for the home team. Plimpton, like nobody before or since, bridged that gap.
It came as a bit of a surprise in "Plimpton!" that George wasn't entirely respected in all ink-stained quarters. Sure, writers of the day would be published in his magazine, wolf down his Scotch, and ogle the ingénues who filled out his soirées, but that didn't mean they bought into the whole Plimpton act. "Dilettante" was the common charge. One tough bit in the film comes from James Salter saying he thinks his buddy George would have liked to have swum in deeper waters.
There may have been lonely nights of Plimpton's soul, in the wee hours after the whiskey ran dry, and the last guest passed out, when he regretted learning trapeze instead of hoofing it through Vietnam. I doubt, however, that his self-doubt ran too deep. One story Plimpton never wrote was about being with his friend, and preferred presidential candidate, Robert F. Kennedy on the night of his assassination. Plimpton helped wrestle the gun away from Sirhan Sirhan, and accompanied RFK's entourage to the hospital (where, coincidentally, he may have met my grandfather). There's a wrenching audio clip in the film of Plimpton trying to recount the events in a police deposition, and getting angry and flagellating himself for failing to recall anything except the killer's "dark brown enormously peaceful eyes." This could have been participatory journalism of the worst kind, and it's remarkable, admirable really, that Plimpton kept it to himself.
To me, the salient takeaway from "Plimpton!" is that seeking new experiences, and having a hell of a lot of fun in the process, is not the enemy of creativity. "One of the things that's largely been lost in journalism is a positive take on life. Dad had an openness about him, a wonderful temperament where nothing was prejudged. He was boundlessly curious, which allowed him to discover stuff that people who are bored and uninterested in life never will," says Taylor. "The purpose of his work was play."
There are a million writers who always look on the dark side of life. There is only one who took a supermodel for hot dogs and beer in the cheap seats.
This piece originally appeared on Biographile.
Patrick Sauer is a contributor to the new online magazine NSFW Corp. and has written for publications such as ESPN, Fast Company, Deadspin, The Classical, Huffington Post, and Whim Quarterly. His personal essays have appeared in "The Moment," "Lost & Found," and the "Six-Word Memoir" series. Originally from Billings, Montana, he now stays-at-home-dads in Brooklyn. For more, check out patrickjsauer.com or follow him @pjsauer.
Biographile is your literary source for news, reviews and interviews on the world of biography, memoir, and narrative nonfiction.